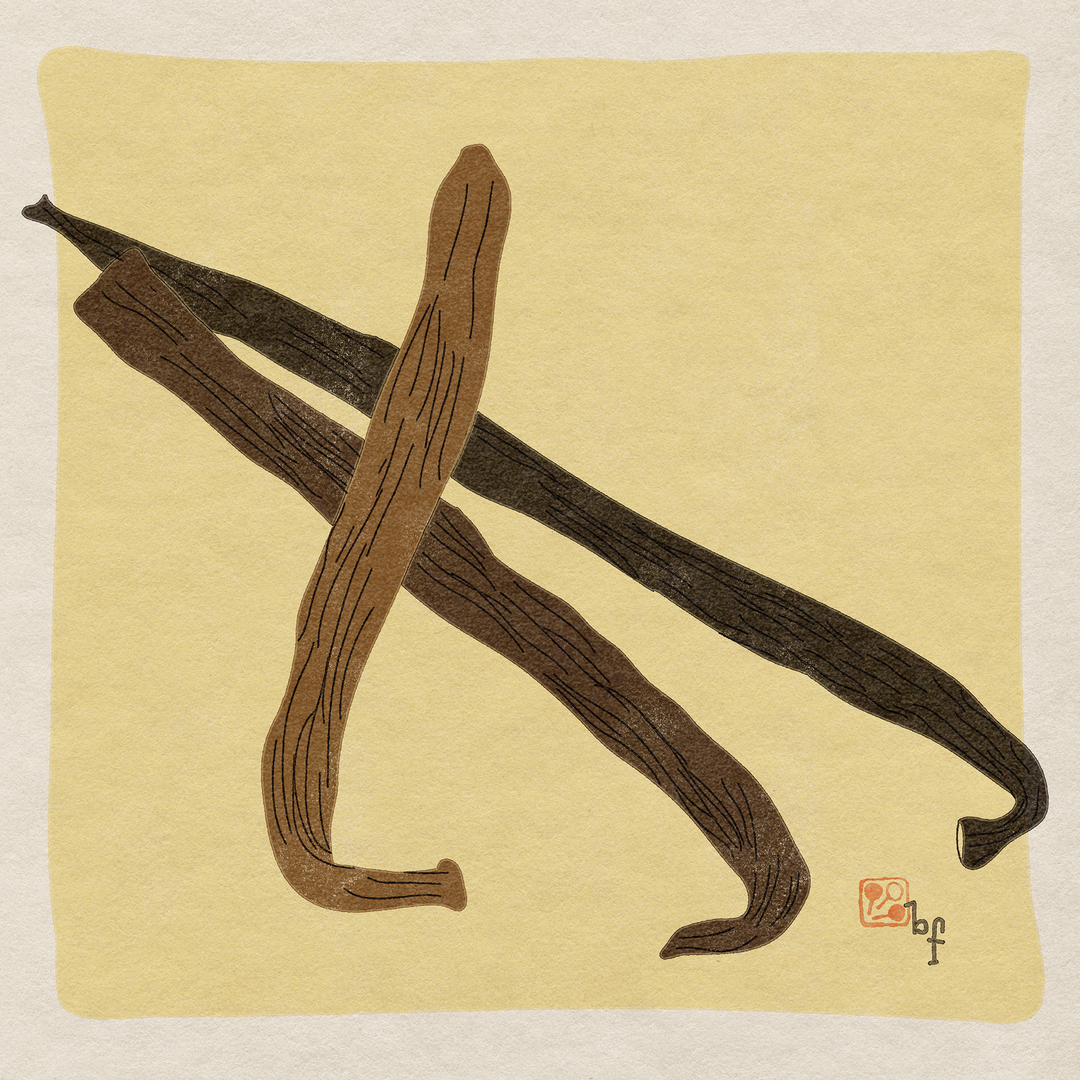 Posted on
---
I had a great time making this short how-to video with Sebastian of Looking, Feeling, Smelling Great! It shows how easy it is to make vanilla tincture. Follow the recipe at the end to make your own!
Vanilla tincture is a material perfumers use to create a light and not sweet vanilla top note. The video shows all the steps, and I've posted the recipe at the end of this post with measurements and instructions. You can also watch the video for a step-by-step demonstration.
Vanilla in Perfumes
Vanilla is one of those chameleon materials that perfumers love. It can be sweet and classically "vanilla."
It also has woody-smokey notes (think butterscotch) that blend into many perfumes where it plays a supporting role, often reinforcing woody notes in surprising ways.
And of course, it's a key player in the best gourmands perfume. Vanilla is used as a significant presence in all my gourmand perfumes. 
Discover the many facets of vanilla perfumes in the Gourmand Palette.

GET THE GOURMAND DISCOVERY SET
As we discuss in the video, perfumers use several vanilla materials, each with its own individual effect:
Vanilla absolute:

 a rich (and very expensive!) extraction of vanilla pods is used sparingly, if at all. In high-end perfumes, vanilla absolute can be used in addition to vanillin to add complexity.  

Vanillin:

 the molecule that screams "vanilla!" occurs naturally in vanilla pods. It can also be synthetically derived (a "nature identical" molecule). Nearly all vanilla scents use it since botanical vanilla absolute is prohibitively expensive.

Vanilla tincture:

 a lighter vanilla note used in perfumes mainly as a top note for a unique effect.
Vanilla tincture is fun and easy to make at home. If you make it with food-grade, high-proof alcohol (like vodka or Everclear), you can add vanilla accents to cocktails and desserts.
You'll find the ingredients and the procedure at the end of this blog post. Whatever you do, do not use rubbing alcohol; it won't work and will add an unpleasant odor.
FZOTIC Vanilla
Vanilla is used as a significant presence in all my gourmand perfumes, even if chocolate or sandalwood is the central theme. It is also indispensable in my fragrance Zdravetz, where a high dose creates a fresh, sparkling vanilla rose perfume.
Explore the Fresh Palette to discover a new take on vanilla rose perfume.
 Vanilla Tincture Recipe
If you're unclear on the instructions, watch the video for all the steps. 
18 grams Vanilla Beans or Pods (about 10 vanilla pods)

50 grams high-proof vodka or Everclear* (about 1/4 Cup)

3 oz spice jar (a large spice jar)

8-inch chef's knife or paring knife
Split the pods in half lengthwise. Using the edge of your knife, nearly at the tip, scrape out the tiny vanilla seeds (they will be sticky), then slide this along the top edge of your jar. The seeds will stick there but don't worry. It will all be ok when you combine everything. 
Next, mince the pods into 1/8" pieces. Add these to your jar and measure 50 grams of alcohol. Add your alcohol, close the lid and shake gently. Leave for three months in a cool dark place, shaking it every 4 days. After three months, strain the pods through a fine mesh strainer and enjoy your vanilla tincture!
*You can make this with 80-proof alcohol if that's all you can find, but it will be better with 190-proof. Do not use rubbing alcohol, it won't work and will add an unpleasant odor.
Thanks for reading and smelling with me,
–Bruno
👋 Hey there!
IF YOU ENJOY THIS BLOG AND WOULD LIKE TO SUPPORT IT, YOU CAN MAKE A REAL DIFFERENCE:
• Forward the link to a friend you think may be interested.
• Follow along with FZOTIC on Instagram for more content like this.
FZOTIC is a small business. Our tiny team relies on the enthusiasm of our customers. Your shares and recommendations matter!
EXPLORE
Sign up to our mailing list